TDRPG - Dungeon - Pixel Art Top-Down Tileset
A downloadable asset pack
Get this asset pack and 4 more for $25.00 USD
View bundle
About
This is the revamped version of my old Dungeon Tileset. There are new tiles, the old ones are better. It'll be available for purchase here once I'm finished with it.
It Includes
Over 500 tiles
10 animated chests(6 uniques, 4 recolours)
3 types of walls
A variety of floor tyles
Lava tiles
Water tiles
And various props and decorations items
It also will come with a color ramp to help you modify it, if you feel like trying different colors yourself.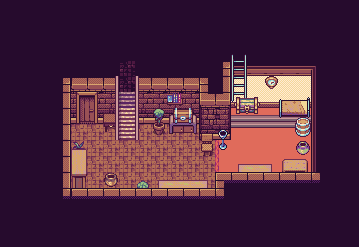 This tileset is also 100% compatible with my Interior Tileset
The character presented in the screenshots is not included.
Purchase
Get this asset pack and 4 more for $25.00 USD
View bundle
In order to download this asset pack you must purchase it at or above the minimum price of $20 USD. You will get access to the following files:
raou_dungeon_tileset.zip
132 kB
Comments
Log in with itch.io to leave a comment.
Where is the character in the screenshot from/are there any particular character packs this was designed for? Thanks
Fantastic tileset, love all your work. Cheers!
Hi, just want to make sure, can we use/share a purchased asset to more than one game/ more than one game developer?
Or it just licensed as a single product (one license for one game only).
The person who buys it can use it for as many projects as they want. So if you're working with other people and wanna use it, thats fine, but you can't "lend it" to someone else
Hello. Just clarifying, are we allowed to use this tile set in commercial games and projects?
Yes you are, sorry the confusion! Just don't redistribute it or resell the raw format of the tileset in a way that someone might just use it themselves without having to buy it from here.
For example: if you have an map editor in your game, for example, it should have some way to protect the png file of the tileset so people cant just go to the folder to grab the png and start using it themselves.
Hello! I tried to contact you via e-mail but haven't yet gotten a reply. Should I contact you somewhere else?
Looks great! What's the license for these (and your other tilesets)?
I also would like to know that.

Gonna be honest and 100% unprofessional I don't know much about licenses but as you don't resell it or redistribute it in anyway you can edit it and use it as you like.
I had the same issue. This might be helpful. Licenses are important as they protect you and the people using your stuff!
I'm going to assume you mean that you can use this commercially as long as it's used within a game or other project as long as the assets won't be resold?
For a lot of people it's important to know if they can potentially use this in a game they want to sell.

Yeah, you can use it commercially as long you don't used it in a way that redistribute it in raw.
For example: you can use it in games/videos., but you can 't create a map creation tool that gives the person the raw file of the tileset in a way that they can use it outside your tool without having to pay for it themselves. Is that clear?
For games and videos you can use it, edit it, and do whatever you want.
Can this be used in RPG MV? If not, what can it be used for because I bought this and would like to convert it to an MV format.
If I'm not mistaken, RMMV's tile size is 48x48, right? The tile size I worked with here is 16x16, so the only two ways I can see this working with RMMV is if you resize my tileset to 3x it's original size, or if you had a way to change RMMV's default tile size.
thanks and great job on the tileset!
You're welcome! It's also worth noting that I'm not sure if RMMV has a specific way you need to set up the tileset like I know RMVX had, so if there is, you'd have to edit it yourself as well to make it fit their default setup